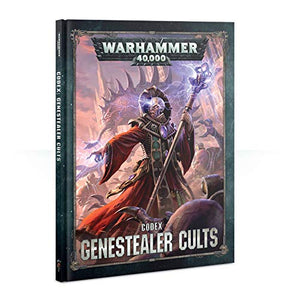 Miniatures Games
Games Workshop
-
GAW 51-40
Warhammer: 40,000 - Codex: Genestealer Cults
Regular price
$46.75
Unit price
per
The Genestealer Cults erupt from the shadows in a tide of mutated acolytes, turncoat soldiery and predatory xenos monsters. They employ ambush and subterfuge to outmanoeuvre their enemies, turning industrial mining equipment and repurposed civilian vehicles into potent weapons of rebellion against the hated Imperial oppressors. Propaganda, mind control and assassination are all weapons in their arsenal. Irredeemably corrupted by Tyranid gene-taint, the cults fight with the coordination of swarming insects and the zealotry of true believers, convinced that they are freedom fighters whose heroic efforts will earn them divine rewards. In truth, they are agents of destabilisation and anarchy – living weapons seeded behind enemy lines to spread, multiply and undermine Humanity's fight against the encroaching Tyranid hive fleets. As the Genestealer Cults raise their wyrm-form icons above the blazing skylines of ever more Imperial planets, it becomes apparent that this ghastly plan is working all too well…
This glorious book contains pages of background and rules for the Genestealer Cults – the insurgent vanguard of the Tyranid Hive fleets. Learn all about the lifecycle of a cult, and how they worm their way into Imperial society, sowing discontent and leading rebelious uprisings in order to soften the planet's defences for the arrival of the Great Devourer.
Inside this 112-page hardback book, you'll find:
- In-depth background and lore on the Genestealer Cults, how they take over planets and prepare them for the Great Devourer, plus their infestation of Chalnath.
- Rousing artwork that will inspire your cults to acts of exemplary sedition
- All the rules you need to play your Genestealer Cults army, including 22 datasheets covering every unit from the Reductus Saboteur to the lowly Acoylte and venerated Patriarch
- A full suite of rules for playing Crusade and narrative games, including Agendas, Battle Traits, Requisitions, Crusade Relics, plus rules for following the Path to Ascension, letting you foster your very own Cult uprising
- An 'Eavy Metal miniatures showcase full of lovingly painted Genestealer Cults miniatures.
Plus, ensure your traps go off without a hitch with a token sheet for use in games of Warhammer 40,000 that comes with 21 ambush tokens and a 9" range ruler
---
Share this Product
---