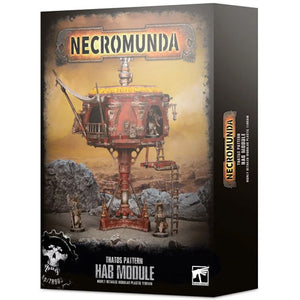 Miniatures Games
Games Workshop
-
Necromunda - Thatos Pattern: Hab Module
Regular price
$68.00
Unit price
per
The ash wastes of Necromunda are an unforgiving environment, utterly deadly for those who can't take shelter from the toxic storms and rabid fauna. Gangs that operate in the Great Equatorial Wastes, and the Ash Waste Nomads who call them home, use Thatos Pattern Hab Modules for protection and communication. These rugged, semi-mobile units can be found scattered throughout the irradiated dunes, abandoned by the unfortunate and claimed by whoever has the most firepower.
This multipart plastic kit allows you to build and customise a complete Thatos Pattern Hab Module. You'll find the following options:
- Glueless assembly for ladders and roof, allowing you to adjust your build to suit your gaming needs
- Loads of cosmetic options, such as canopy shades, stowage, and lamps
- Communications antenna arrays, radar dishes, weather vanes, and other vital ash wastes gear
- Fully detailed interior, visible when removing the roof to maneuver models inside
The Hab Module is fully compatible with all other Thatos Pattern terrain kits, allowing you to build, rearrange, and expand a modular settlement or gang headquarters suited to battlefields, scenarios, and campaigns of any shape or size – multiple Hab Modules can even be combined to create towers of different sizes. There's no need to limit yourself to Necromunda, either – this terrain is also ideal for use in games of Kill Team and Warhammer 40,000.
This set comprises 107 plastic components. This miniature is supplied unpainted and requires assembly – we recommend using Citadel Plastic Glue and Citadel paints. Note that some components are intended to be assembled without glue.
---
Share this Product
---