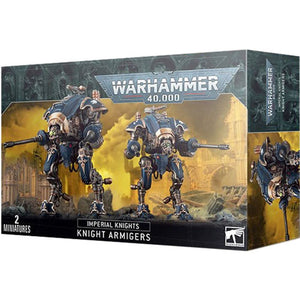 Miniatures Games
Games Workshop
-
Warhammer: 40,000 - Imperial Knights: Knight Armigers / Helverin / Warglaive
Regular price
$76.50
Unit price
per
Small and agile compared to their lumbering kin, Armiger-class Knights are still war machines of incredible power. Piloted by young squires or lowborn pilots, Armigers act as mobile support and outriders to keep larger Knights from being surrounded, receiving commands from their Noble lords through the Helm Mechanicum. Among these nimble engines, Armiger Warglaives are fearsome hunters of enemy armour, armed with a deadly close combat weapon and a thermal spear that can melt through the toughest bunkers.
This multipart plastic kit builds two Armiger-class Knights – either Armiger Warglaives or Armiger Helverins. Armiger Helverins are a close-ranged Lords of War choice that can provide deadly melee support to your Imperial Knights army – or be taken as a wandering Freeblade squadron for other Imperium forces. Armed with a tank-melting thermal spear, infantry-shredding reaper chain-cleaver, and your choice of a carapace-mounted heavy stubber or meltagun, each Armiger Warglaive can be further customised with a variety of articulated poses, armour plating, and six unique faceplates, with large carapaces making for a perfect painting project. This kit can also be assembled as a pair of War Dog Executioners or War Dog Huntsmen for Chaos Knights armies.
This kit comprises 148 plastic components, and is supplied with 2x Citadel 100mm Round Bases. Also included is an Armiger transfer sheet, featuring heraldry for Imperial Knights. These miniatures are unpainted and require assembly – we recommend using Citadel Plastic Glue and Citadel paints.
---
Share this Product
---